With the help of No. 2 son, James (yes, the same child that was brave enough to drag my enormous horse home for me…see James and the Giant Horse) and Ty Stevens (Pat's summer vacationing son and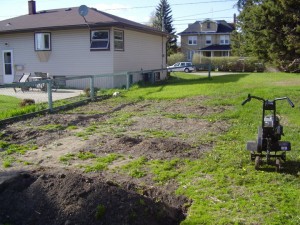 PRO-weed puller)  we managed to pioneer out and construct some informal vegetable patches in the back yard of our house in Grenfell.  Since we're cash poor, but ambition rich, we set about the task of upcycling as much of the material as possible.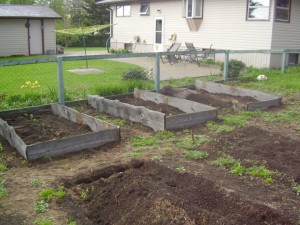 In the end, a quick trip to the north side of the shelter belt yielded an astonishing amount of tumble-down wind boards that were perfect for the job.  Total cash outlay:  $17.00 for screws to hold them together.  We managed to construct a total of 10 experimental beds.
Since our combined gardening experience totals roughly 15 minutes with a few pots of Home Depot petunias, we figured this was going to prove an interesting adventure.  Next up…the seeds!
Since I tend to hoard all manner of strange things, and with a trip to the local hardware store for what they had of interest we got busy.  At this point, the boys pretty much abandoned me and left me to my own idiocy.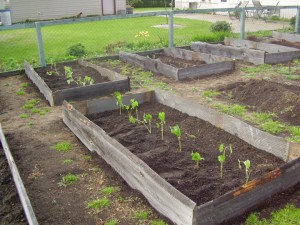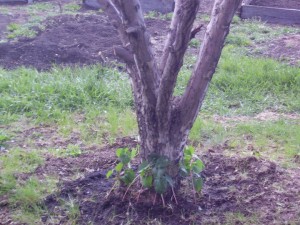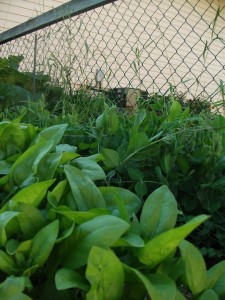 Since I tend to read too much and practice too little, and having taken an Introduction to Permaculture course in Alberta I had pretty much assured myself that I knew what I was doing.  Above you can see the baby green beans…the red runner beans planted around the crabapple tree and to the right, my arrowhead spinach with homesteader peas against the chain link fence that runs between our house and the nice lady next door.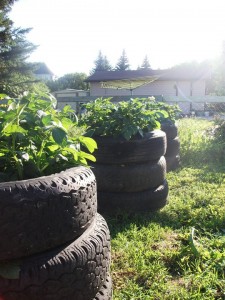 Since we didn't want to use up a whole ton of box space to grow potatoes, I decided to try a "you can grow a small space garden trick" and plant the potatoes in tire-towers.
All of our little adventures were closely monitored by the local towns folk.  Since we were still fairly new in these parts and still "outsiders" it proved wildly entertaining to watch the reactions of passers-by when they would spot our strange little boxes and towers-du-Michelin.
Our tomatoes on the other hand – we set in what seemed the ideal spot…I'd forgotten about the wind…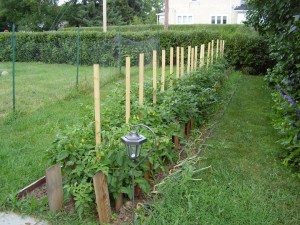 The divine little breeze that drifts between the houses is quite lovely…however, on a WINDY day it howls between the houses and nearly leveled my poor tomato plants without a second try!  As you can see, we're good at improvising…a few cedar shake shingles that we'd found on the farm and some cheap survey stakes, and voila!  Instant windbreak!
As the summer progressed, between working at the local grocery store, Pat working away (long-haul trucking) and only sporadic assistance from the children, all of whom HATE gardening, but don't seem to have trouble eating, the garden in town was more or less left to it's own devices.  I would weed from time to time, but for the most part I found the boxes to be quite efficient and somewhat weed free.  So, between the collection of our precious cherry trees (which are proving to be quite another story), getting them planted and mowed…and mowed…and mowed…the summer passed fairly quickly.
So, come time to start enjoying some of the fruits of our (my) labour…so begin the lessons…
No. 1 – NEVE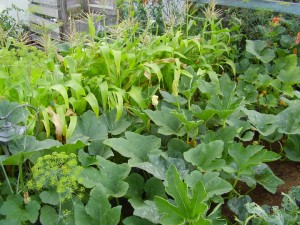 R underestimate the space requirements for a pumpkin patch. It would seem that not only do too many pumpkin seeds outpace my poor little corn plants, you see the pumpkin vines have happily worked their way through the chain link fence and did quite a lovely job of strangling the neighbors delphiniums.
No. 2 – Peas climb.  It's what they do.  They need sturdy supports and mildew VERY fast when too close together or too low to the ground.  Also, in order to collect the peas from the far side of the fence, it required danc
ing around the neighbours cactus plants (yes, cacti will survive a Saskatchewan winter).
No. 3 – Arm yourself in advance when it comes to brassicas.  Cabbage moths are quick and turn into disaster over night.
No. 4 – Roma tomatoes bear heavy.  Need a little more than just a few sticks and shingles to hold them up.
No. 5 – Onions should be set in blocks with plenty of space for sunlight.  They flop over fast in the shade of other companions.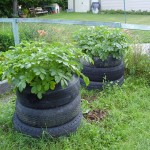 No. 6 – P'dada towers.  Yes, the spelling is intentional.  Jeff Senter (a good friend of the family and PEI native) says "potato" with his Maritime accent and well, P'dada is how it sounds.  Hence the spelling.    They are a great idea when you have a limited amount of space, but they don't yield more than 15 or 20 lbs per tower.  The color and flavor of the potatoes is fine (no, they don't taste like tires).
All in all, for a first out of the gate, I think we did not too badly.