Welcome to Summerberry, Saskatchewan, Canada.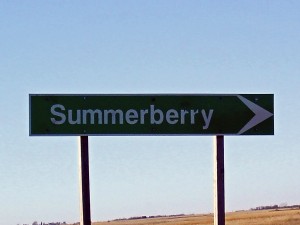 Summerberry was once a thriving little community.  Complete with schools, grain elevators, church, bank and an assortment of inhabitants from farmers to gardeners.   As happens, with many small settlements, it has become more of a legend and more or less a ghost town.
Summerberry, SK is now populated with a dozen or so people, one gray dog, 20 Clydesdales and us.  A little bunch of wanna-be farmers that think that being self sufficient Is a good thing.
There really isn't much to Summerberry these days.  We would like to change that.  Sanguine Clydes (our friend and almost neighbor Harvey) is the owner and trainer of some SERIOUSLY nice horses!
In this shot you can see Harvey's show horses all done up in their finery!
Sanguine Clydes is a small, Saskatchewan based business with some really big accomplishments.  Harvey has spent his entire life in the horse business and has most likely forgotten more than any of us could ever profess to know!
Our farm horses Luke and Sadie are both products of Sanguine's breeding, and Harvey has graciously offered to help us train them.
Since I (personally) know very little about horses, other than the fact that I'm madly in love with them, this should be an interesting adventure.  Just as a plug for a local business as well, Sanguine Clydes hires out for training, rides, weddings and any other occasion where a horse and buggy would be nice touch!  Harvey also has a page on Facebook if that's more your style.
As far as our own plans go…here's the short version.  Summerberry Organics Inc. is a partnership that plans to construct, from the ground up, a self sufficient, fully organic family homestead.  Yes, you read that correctly.  We are starting from scratch.  We didn't inherit anything.  We have ZERO experience as farmers.  Pat Stevens and Tammy Brooks (that'd be me) are the owners.  Together, we are working towards our retirement from the world of every day life.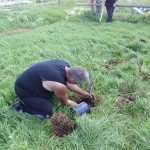 Pat is a simple man.  He works LONG hours to pay for this project of ours, he appreciates a hot meal at the end of a long day, and a re-run of Duck Dynasty.  He enjoys growling at his ride-on lawnmowers and blowing snow with "Blue Manchu" (our little yuppie tractor).  He seems to have this unique notion that every human of his acquaintance should have as complete an understanding of mechanics as he does.  When the tool-time wisdom that he attempts to communicate is met with a blank stare…well, it can get interesting.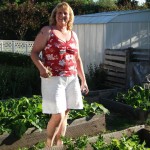 Tammy (your author and host for this little adventure) is a self-professed hippie.  I live to buck the system, avoid chemicals, and think that life should be a whole lot simpler than most people make it out to be.  I'm the gardening department.  The bean-counting department.  The voice of logic and reason department…or rather, I try to be.
One day, we will have a couple of pigs, a few cows, and assortment of chickens and the like.  There will be fruit trees, vegetable and herb gardens, forests for food, shelter and wild life.
What we have NOW, however, is another matter.  We have a 40 acre strip of abandoned dairy farm, with more mess, scrap metal and run down buildings than most people see in a life time.  We have ramshackle fences, shelters in DIRE need of repair, and no place to really live.  We have installed a 28′ holiday trailer as a three-season dwelling, and hope to set down modular housing in the summer of 2014.
It is a LONG and often difficult path that we have made for ourselves.  Not only are we cleaning up messes not of our own making, we are trying to return to Eden in more ways than one.
I plan to blog about our trials, tribulations, and other adventures – so come along for the ride, won't you?  Offer up a little insight?  Ask a few questions? If you are in our area, pop by for some coffee and a tour.  It's not much, right now – but we are proud of it!
Our mission is to prove that you CAN be environmentally intelligent, self sufficient and still make a few dollars doing it.
Check back often, as things progress we will keep you up to date on the comings and goings of a bunch of strays that want to breathe life and hope back into a ghost town and small scale agriculture.