Summerberry was once a bustling little town, once upon a time.   There's still a sign on the highway that points to the town…but for the most part, there's really nothing there.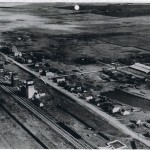 The grain elevators are gone, as are the little churches.  A few of the original houses still stand, but for the most part, not a lot remains.
The old schoolhouse still stands.  It is boarded up, and in dire need of repair..I tell ya…If I hit the lottery….but I digress.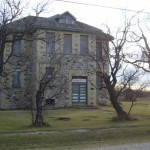 Once upon a time there was a bank, shoe repair, chiropractor, music teachers, dress makers, hair dresser, laundry, milk deliveries, butcher shops and an ice cream parlor.  There were also three cafes, a barber shop (& bootlegger – for $0.25 you got a little shot of home brew) a pool room.  There were a number of small grocery stores over the years, a hardware and a blacksmith.   Lumber yard, an implements dealer, boarding houses and a post office.  There was a coal shed, a flour shed, Imperial oil  an assortment of grain elevators, a small stock yard.  According to some of the reading I've done there was also a skating and curling rink as well as a small golf course.  None of it exists today.  If you'd like an interesting read, our current Mayor, Mr. Lloyd Gwilliam has built a small site to commemorate Summerberry   Although Lloyd no longer lives there, it's quite apparent that he's got a soft spot for the town that is almost no more.
Our little strip of land is 40 acres of what was once a 480 acre grain farm.

This is what it looked like the year that Google took their pictures…late 2007, I think.  We purchased in August of '07.  I'll save the story of HOW this fool's errand came to be for a different post.
Since I'm a bit of an information junkie, I did embark upon a trail to see what I could find out about the old place.  In the summer of '09 when the family actually moved TO Saskatchewan and via the course of conversations with various locals, I discovered we had purchased "the Mohr place".  OK, there's a start…as it turns out Lilian Mohr was still alive (she left this world last year at the age of 94).
I was blessed to be invited to tea with Mrs. Mohr and she was kind enough to fish out a few photos that she had.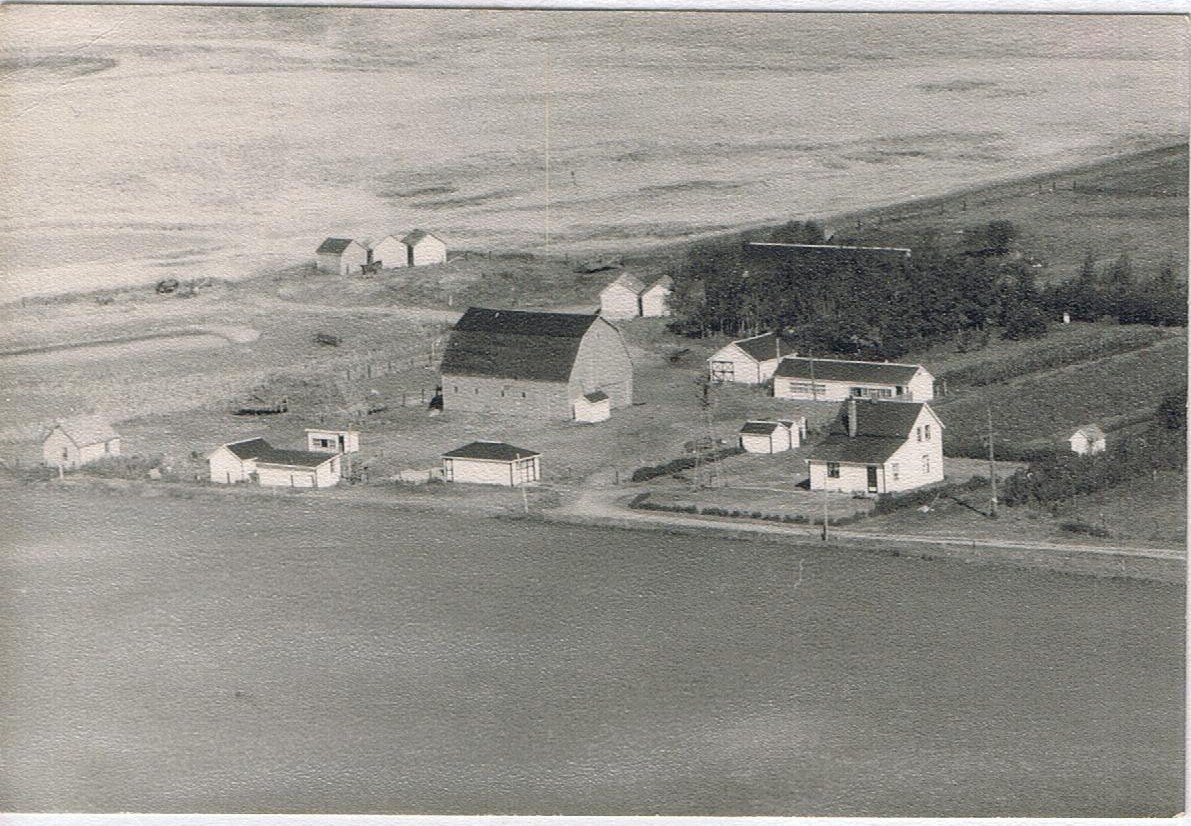 In the fall of 1944 Chris and Lillian Mohr purchased three quarter sections with a farmstead and commenced their life as young grain farmers.
I actually learned very little about the farm.  Lillian and her husband had purchased from a family named Tab.  But she couldn't recall much about them.  She didn't think they were still around.  I'm uncertain how many children they had, but I'm sure given enough digging and a local archive I could find out.  Lillian was very proud of the fact they she had planted the shelter belt trees the spring following their take over.  The trees (if you look closely at the photo – the line of trees running north on the right side) are still there.  Their next project was to fence off some of the pasture area for their family's meat animals.  They used recycled railway ties for fence posts.  Many of these posts are still in use today.  There must be 200 of them.
In the winter of 1949 the barn (shown) burned down.  In the spring of 1950 she and Chris (with help from the neighbors) erected a ne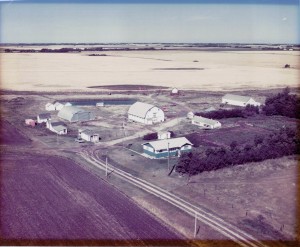 w arch-roof barn.
This photo was taken in the summer of 1976.  As you can see, their barn has shown itself to be quite the sturdy installation.  The house was renovated from a two story to a single bungalow style.  The family installed (somewhere in the '60's) a metal quonset hut (the silver arch-type building).  The HUGE family garden was in full swing, the chicken house did what chicken houses do.  All in all, it seemed to be a fairly peaceful life.  In 1977, Chris Mohr was buried in the Summerberry Cemetery.  Lillian left the farm that year, and never returned.  Her son, Chris (I think) took over for a time, and Lilly moved into Grenfell where she spent the remainder of her life.  She now rests beside her husband in Summerberry.