And so…to continue this tale of the traveling, stolen, strange Hawaiian plant…
As I was saying, Rocky was starting to look sick around Christmas time…so I panicked.
Upon finding the National Tropical Botanical Gardens in Hawaii, I promptly fired off an e-mail.  I didn't really expect a reply, but figured it was worth a shot.
The next day, in my inbox, lo-an-behold a reply!!  The nice lady had advised that she would forward my note to one of their senior people and wished me luck in my endeavor.
A day later, there's an e-mail from the (get this!) Director of Sciences, Dr. Lorence!  He asked me for photos and said he would do what he could to help me out.
And photos I did take!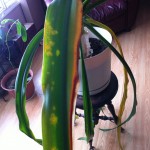 As you can see, the leaves were developing odd spots and really long dry edges on them.  I was convinced that Rocky was dying.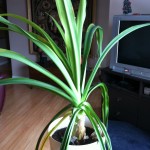 I sent the shots off to Dr. Lorence and waited.  When he replied, he said that he wasn't too sure what the problem was since it didn't appear to be mites or other little bugs, and since he couldn't really get a hands-on for the situation, he was willing to make a few suggestions.
He did, however, identify the species.  Rocky is a type of CRINUM lilly.  But, unless it bloomed, Dr. Lorence said that it would be difficult to make a final assessment as to precisely which type of lily Rocky is.
His suggestions were to get a MUCH larger pot and to refresh the soil with GOOD potting soil (don't get the cheap stuff).  So, off I did go to the hardware store.  $47.00 later and a fair bit of cursing, Rocky was re-potted and refreshed and set back in his corner to recover (fingers crossed).  All I could was wait.
After about a month, I started to notice that he was perking up a bit.  The nasty bits on the leaves weren't really getting any better, but the upper leaves were starting to grow again.
When I went to fertilize him next I noticed a little something I'd never se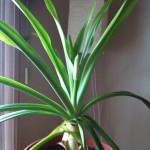 en before.  A little nub-like affair sticking up at an odd angle.  So, I waited some more…
A couple of weeks go by and sure enough – this funny little thing is getting larger.
And larger…
So I rifled off another e-mail to the nice folks in Hawaii, and it would seem that after all these years, Rocky was beginning to blossom!!
Again, I stood back and waited.  I didn't do anything special, I didn't buy any fancy fertilizers, I just put him in a larger pot with good soil and stayed out of the way.
By June of this year (2013) Rocky was nearly in full bloom!!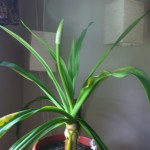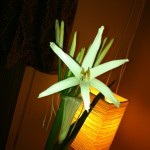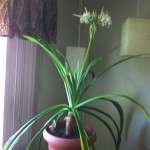 Over the course of the summer I just left him be.  When the flowers emerged I once again sent of photos to Dr. Lorence in Hawaii.
Guess what…Rocky is a Crinum Asiaticum (we think).  Commonly referred to as a "Spider" or "Queen Emma" lily in places like Hawaii, Australia, South Texas or Florida.
In a small, north facing,  living room window, in South Eastern Saskatchewan, Canada, Rocky is not only an anomaly – he's a family heirloom.
I have believed from the minute my truck-driving boyfriend talked me into moving to Saskatchewan that I had somehow found "HOME".  That elusive place where you just "know" you belong and feel completely safe.  I think perhaps Rocky has realized too that we are at last home.
Over the course of summer my house smelled absolutely wonderful!!  When you hear folks talk about the indescribable scents of the exotic flowers in places such as Hawaii – they are not kidding!
Since Rocky's sudden and amazing decision to flower, after all these years, I've just let him do his own thing.  He continues to grow – sending off one new leaf and having one dry up and die off.  But this time – it's with a bit of a difference…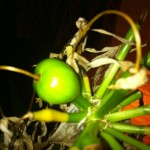 THIS is what showed up once the flowers had begun to fade away.
It would seem that Rocky is getting ready to set seed.  So, again, I'm just leaving him alone to do what nature does best.
As of this date (November 21, 2013) I am still eagerly awaiting the "tick, bounce, tick" of the seeds falling to the ground.
As you can see…my patience will soon pay off.  These photos were taken today –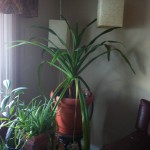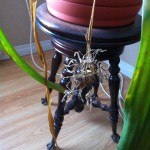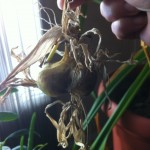 It's been almost a year since this whole adventure began.  Now that I actually sit down and write about this humble houseplant, I am taken aback at what has transpired since the household challenge in the kitchen in 1980.
Rocky is 33 (yes, thirty three) years old.  The summer of 2013 is the FIRST TIME EVER that it had blossomed.  Rocky has seen many things in his abnormal life.  My sister's and my Graduation from high school and college.  Our weddings, our divorces, the birth of my children, my Grandmother's passing, my Mother's passing.  MY children's Graduations, college graduations, finding their mates and the birth of MY grandchildren.
The seeds that will eventually fall from this plant will in turn be planted and with a little luck and a lot of love, Rocky will produce off-spring as well.
Rocky is not only my Mother's legacy, he will be my legacy as well.  A small one, perhaps.  But a legacy, nonetheless.  A living testament that no matter what comes to pass – through all of the ups and downs of daily life, the heartbreaks and sorrow, the birth of new life or the passing of an old one that as long as you continue to grow and there is love, you will need NOTHING else.